Barry Kantor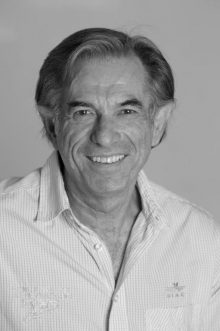 I trained to be a teacher of the Alexander Technique at the Centre for Training in London during the years 1992 to 1994. I returned to my home in Cape Town at the end of 1994 and have been teaching the Alexander Technique here ever since.
In my previous career I was a successful partner in a large Cape-Town firm of attorneys. After a few years of private lessons in the Alexander Technique, I realised that my life and others would be better served as a teacher in this profession. Read my personal story here.
I have worked with hundreds of wonderful people from all walks of life, in individual and group settings. I have given many workshops in Cape Town and Johannesburg. I regularly teach on a teachers' training course in London. I have also explained the Technique to the broader public through wide media coverage, including Fair Lady, the Cape Times, Corporate Health, Channelings, Sawubona and Exit newspapers and Magazines, as well as on on SAFM radio, and on Free Spirit on South African Television.
Embodying mindfulness
Applying the principles of the Alexander Technique I teach an embodied form of mindfulness, where mind, body, heart, and spirit are unified – and I work on all these levels simultaneously – and teach my pupils to do the same. Unlike the traditional teaching of mindfulness, I give direct hand-holding support for you to experience a unified field of awareness directly and effectively. Through touch, I am able to sense your progress immediately and offer the necessary guidance to help you get and stay on track. Throughout, I emphasize the process for you to follow on your own, explaining, showing and inculcating the means whereby you can apply it on your own, in every activity of life. Another difference from other teachings of mindfulness is that you do not need to seclude yourself from daily life, enabling you to learn how to apply the principles of awareness in your everyday activities wherever you are, whenever. And reap the benefits.
Professional qualifications
My professional qualifications for teaching Alexander Technique:

Certification by the Society of Teachers of the Alexander Technique (United Kingdom)
Registered member of the Society of Teachers of the Alexander Technique (United Kingdom) (MSTAT) – this is the oldest and largest professional body of Alexander Technique teachers in the world
Certification by the Centre for Training (London)
Registered member of the South African Society of Teachers of the Alexander Technique (MSASTAT)
Membership of these Societies guarantees that:
I have successfully completed a a three-year, full-time training at an approved and regulated training programme, and that I am professionally qualified to teach the Alexander Technique
I am governed by a professional organisation and its Rules, including being bound by their Codes of Professional Conduct
My professional qualifications are recognised by affiliated Societies around the world; namely, in Australia, Austria, Belgium, Brazil, Canada, Denmark, Finland, France, Germany, Israel, Netherlands, New Zealand, Norway, South Africa, Spain, Switzerland, United Kingdom and Ireland, and the United States.